Couple of weeks ago I boarded a plane to spend 48 hours in Lahore, Pakistan to meet and mentor startups in the Plan9 incubator.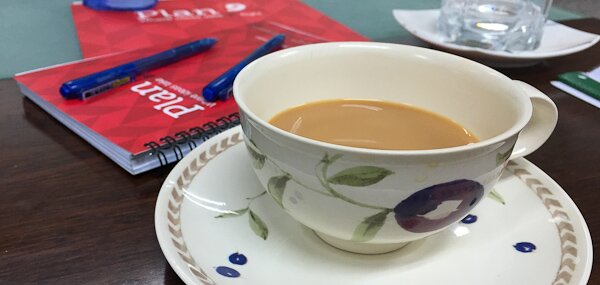 Countless cups of chai later I was a bit smarter about the realities of the startup scene in Pakistan. No amount of research, reading news or analysis beats first hand experience. On thing I already knew about the local scene was that…
Pakistani startup scene = Estonia 5-10 years ago
What was Estonia's tech scene like in 2003-2006?
TL;DR – Local players focused on internal market, no startup scene to speak of, no angels, no VC funds, tech entrepreneurship unknown career path, failure frowned upon.
There were a handful of big web portals (I helped build one of them), one dominant local search engine (before Google took over as it's done in so many other countries), advanced online banking infrastructure, couple of jobs marketplaces, real estate was starting to take off online. No ecommerce to speak of and the biggest money maker was a dating site selling virtual credits. Paid ringtones were all the rage.
Banks and couple of software development houses (Webmedia, now Nortal, and Helmes spring to mind) were the largest employers of software developers with only Skype and Playtech (Israeli online casino developer with a large dev team in Tartu) aggressively hiring from the former and straight from universities.
In 2005 eBay bought Skype, making a handful of early employees very happy but the only immediate result was ASI investment fund started by 4 core Skype engineers. It took another 3-4 years for the Skype employees to start setting up their own startups.
In 2006 the government set up Estonian Development Fund which started doing 50:50 investments together with the private sector, and Enterprise Estonia gave grants to help companies tackle new markets.
Obviously the situation in Pakistan is somewhat different, starting from the population – 190 million vs 1.3 million in Estonia. Adam Dawood and Bowei Gai did a great job documenting the scene in June 2014.
Challenges for Pakistan in growing its startup scene
Entrepreneurship as a career choice is seen as risky, it's not a "proper" job. Plus if you fail then you're done, it's over. In Estonia young entrepreneurs Ragnar Sass and Martin Tajur went through a very public failure of United Dogs & Cats yet are now building a very successful Pipedrive.
No local VC / angel investment culture. Tech startups are seen as risky and unknown. Better to kick off the next real estate project.
Hard to attract investors from abroad – weird country somewhere far away, unknown business and legal framework, prejudice, the inevitable "is it safe?" question etc.
Obscurity in foreign media – stories that get coverage are of bombings and corruption (and yes, these need to be sorted out as well), no big tech wonder stories, yet. Estonia was lucky, we had Skype + paperless egovernment (14 years now), national ID-card, and X-roads infrastructure powering things like e-taxes and e-voting, ubiquitous free wifi that continues to gather lots of positive media coverage.
Solid engineers but no business development, sales or marketing experience – Pakistani software engineers are probably as good as any you'll find (12,500 of them work in Silicon Valley), but there's almost complete lack of experience of customer development, sales and marketing – everything you need to take a product to the market.

In spite of all the hurdles there's a small and growing startup scene in Pakistan with Lahore and the PITB building at its heart.

Kalsoom Lakhani wrote a way better post on the whole issue nailing the crucial point that it's not all down to local enterpreneurs:

In the report we released this year, Pakistan Entrepreneurship Ecosystem Report, we noted that while this micro-level activity is indeed encouraging, macro-level policy and infrastructure challenges continue to plague entrepreneurs and investors alike.

Political instability, corruption, judicial system, terrorism, low GDP per capita (lower than Estonia in 2004) – no easy problems for sure.

My talk to the incubator companies and IT University students in Lahore covered some of these topics and learnings from Estonia.

Plan9 is a government funded startup incubator that offers its chosen startups office space, internet connection, mentorship and access to its business network. Best aspect of the deal – startups don't have to give up equity, just push hard to justify the choice.

My main focus during the 48 hours was mentoring the young companies in the current class to help them figure out their go-to-market strategies and how to get the most bang for buck, often with a marketing budget of $0.

Just like in Estonia the more promising ideas have a strong B2B focus. Some have already launched with initial traction, others are about to to go live.

I'll continue helping the future classes as member of the board of Plan9. Interested in getting involved? Drop me a line »