Last weekend I participated in London Revolution – a 2 day cyclosportif that covers 180 miles / 288 kilometres and draws a large circle around London. Together with getting to start and cycling back home from the finish I covered a total of 360 km.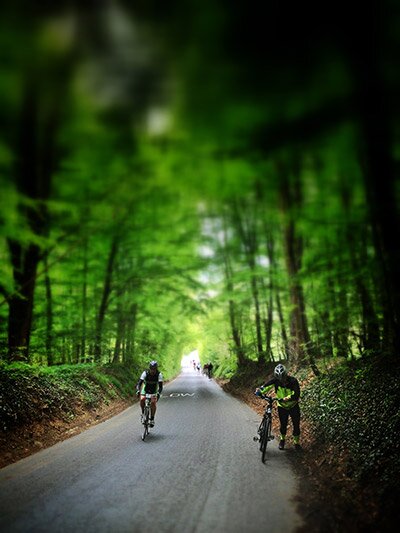 Sander asked to share some comments so here goes…
180 miles is long but doable with decent training. I didn't have too much time to put into proper training but together with my daily commutes and some longer rides on the weekends over the last few months I was in OK shape.
I didn't pay much attention to core body training/strength and suffered for it. On both days the total ride time was around 7 hours and my back got properly tired and started aching.
This being my first cycling event in the UK and the first sportif I wasn't quite sure of the rules – will people ride in groups? Will they aim for good time or take it easy, stop at a pub, chill at the pit stops? Turns out it's a very relaxed thing, they do both.
My previous data points are all from Estonia and from proper races so the amount of queueing came as a surprise – start was staggered so you had to wait for that. There was lots of queueing for snacks and water and loo at the pit stops too. Since I was riding alone I was keen on getting going again faster.
The riders, as always, were a great bunch, always up for a laugh. I guess cyclists (and people into sports in general) are the same world over :)
Surrey is beautiful! I thought my usual tracks North of London were pretty good but Surrey is much nicer. Hillier but nicer still. Box Hill was a steady 4 km uphill but not a stupid steep angle (unlike couple of other shorter climbs where I got off the bike).
Drivers in the UK are pretty darn nice towards cyclists. Given the amount of bikes on the road that it must have been rather annoying to drive but I saw maybe only one car that was overtaking cyclists in a stupid way.
At the beginning of the race I was hoping for a bit more group riding, it's so much more efficient and helps to go faster. Not sure why it didn't happen, perhaps people train mainly alone or with their riding buddy and working as a small group, rotating and keeping a steady pace isn't a habit. Still, I'm grateful for the times when I did get a break catching the wind behind some guys and girls.
Would I do it again? Not sure :) It's good to know I can cycle that long distance but two days was enough. I don't think I'd sign up for something like John O'Groats to Lands End ride but will probably get a few more one day events in in July. Sam over at LondonCyclist has a much better overview of the race: Riding the MITIE London Revolution
For anyone interested then my tracks are in Strava: Day 1, Day 2