Having been born and lived the first 12 years of my life in the Soviet Union I'm a living testament of how everything from one's childhood has a positive aura, no matter how bad the overall life actually was. Which is a long way of saying – I was rather looking forward to receiving the Vostok Europe Gaz-14 Limousine Chrono wristwatch for a review.*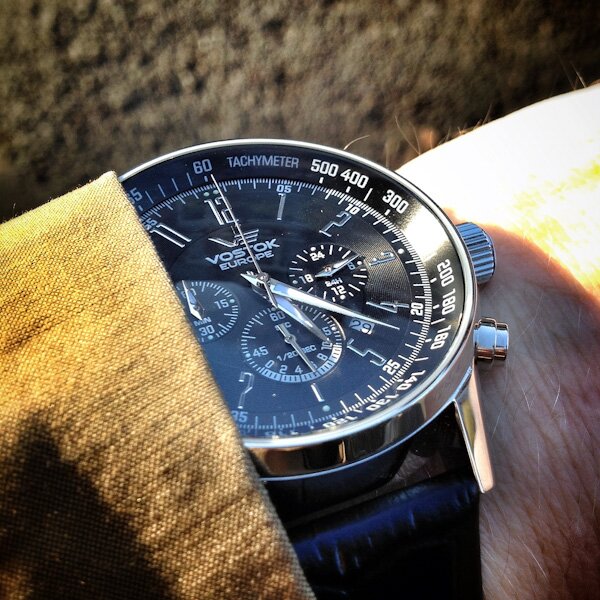 Gaz-14, also known as Chaika (or seagull in Russian), was a car built for the higher echelons of the politbureau of the USSR. In Estonia it was a rare sight, I might have seen it once or twice during some parade. But all the kids knew – Chaika stood for something special, it meant old-ish important men in dark suits, military parades, power (however we understood it back then).
The Gaz-14 wristwatch rather nicely reflects those sentiments in its classic design and sharp black'n'red packaging. I might not be keen on the design of other Vostok Europe watches but the simple lines, stainless steel case and black face talk to me. If you want to go even simpler then pick the version without the chronograph as it does make for a somewhat busy design.
The chronograph has a nice little feature which is simply fun to watch – the sub-dial at 6 o'clock, which normally tracks seconds, jumps to action going back and forth denoting 1/20th second when stopped. And the large second hand does a nice little sweep around the dial when timer is reset. It's a pretty good party trick as far as sub-200 Euro watches go.
Gaz-14 Limousine in bullet points
Solid stainless steel round case, 42 mm.
Japanese Miyota OS22 movement
5 ATM water resistance
Tachymeter
1/20 sec chronograph with retrograde demo, timing up to 59 min 59 sec
Genuine leather strap
The strap is my only niggle with the watch – it suits the watch well, matching the somewhat formal look of it nicely, but for my admittedly narrow wrists even the tightest fit was too loose. Annoying when cycling as the crown (or the buttons) start to hurt.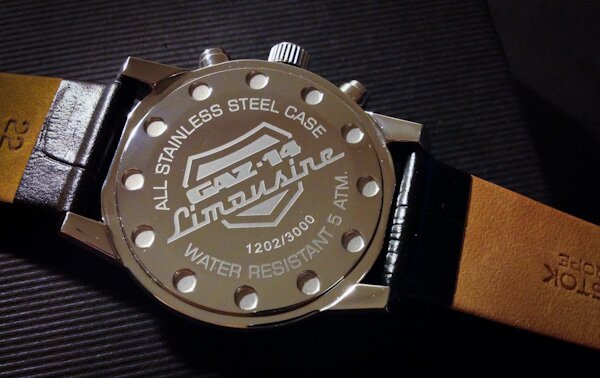 If you were to forget the name of the watch you were wearing then simply turn it over, the screw on back plate has a modified car company GAZ logo and the serial number of your watch (3000 will be made altogether).
Vostok Europe is not the Vostok my father knew
Vostok Europe is a rather curious watch company – while the brand Vostok is Russian, VE is actually a Lithuanian company, building watches in Vilnius since 2004. Not the first city that pops to mind when talking about wristwatches. From what I can tell they don't use Russian movements in their watches any longer and most of the marketing I found on their Facebook page targets younger, more active audience.
How much and where?
The price listed on VE website is 194 € but if you're in the US then it's probably easier to get one from Amazon for $242.50. The UK Amazon doesn't carry the one with the black dial but has some other versions available.
Should you get it? If you like the design, want a smart dress watch that works in casual settings too then yes. The quality of this watch is top notch for the price.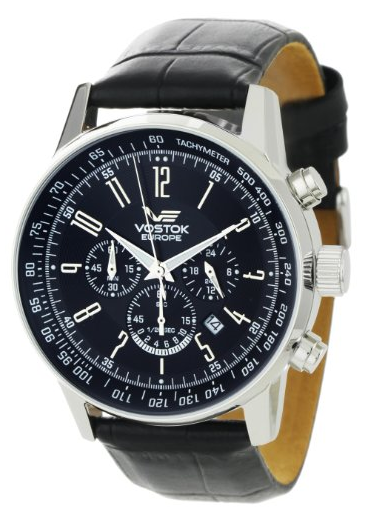 If you want a watch with real Russian history, the movement and all then keep searching but be prepared for a barrage of some seriously tacky design. I'm the keeper of a real Vostok from my father till my son is old enough to appreciate watches. I also own an old Russian Pobeda watch I inherited from my grandfather.
* Full disclosure: Vostok Europe sent me this watch free of charge to keep in return of this review. As always I write about products as I see and experience them, flaws and all.